Regular price
Sale price
$34.95 USD
Unit price
per
Sale
Sold out
Golden Tide by Abraham Hunter - "When I look at this painting I imagine I live at the lighthouse and I've taken a little walk down to the beach for the evening to take a short boat ride out on the rising tide. After that it would be the end of a perfect day to have a campfire on the beach and pick some country tunes on my trusty Martin guitar! This has to be one of my favorite paintings I've done so far because guitars touch such a chord in my heart! I hope y'all like this painting and it encourages you to stop and take time to enjoy the beauty that surrounds you!" Abraham Hunter

Now you can paint this wonderful painting with our amazing paint by numbers kit from our Landscapes Collection.
Each Masterpiece By Numbers kit is produced with care and attention to produce a painting as close to the original artwork as possible. 
The peace and serenity of painting is time well spent in our hectic world. The joy of painting this expertly detailed canvas will only be matched by the beautiful painting you will create.

Includes Everything You Need To Complete Your Painting:
High quality linen canvas - you can start painting straight from the box.
Set of paintbrushes - custom made for our paint by numbers kits.
Individual paint pots - for every color in the painting so you don't need to mix any colors.

Canvas Size: 16"x 20" (approximately 40x50cm)


Click the "Add to Cart" button now. Limited quantities are available so order now if you see a picture that you like.
© Abraham Hunter. Courtesy Of MHS Licensing
View full details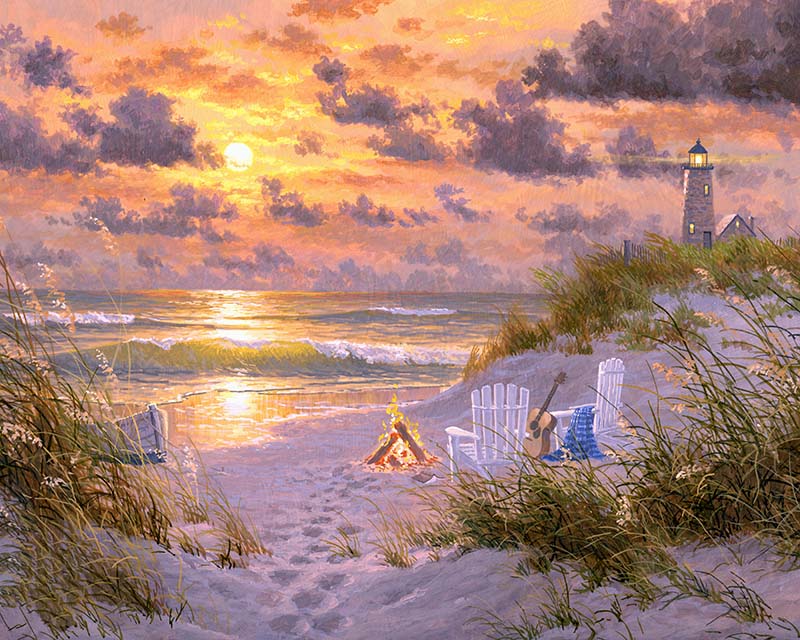 Golden tide
This one has a lot of tiny spots so it takes awhile to complete. More spots missing #s than normal but I think I did a good job guessing which colors were intended. Final painting looks pretty close to online picture. Overall I am happy with how it turned out :)
Love your products! I did have one paint capsule that was a bit dried out. Lid not secure.
Sunset on the Beach (aka Golden Tide)
The PBN kits from MPN are high quality and very professional looking. I am about three quarters of the way through the painting process, and it is looking very good. It reminds me of the sunset at the beach on Lake Michigan near Grand Haven, Michigan.
Golden Tide
I am currently painting this. I am maybe 1/3 finished, but love it so far. The paint and colors are fabulous!
Why You Should Buy From Us