Regular price
Sale price
$34.95 USD
Unit price
per
Sale
Sold out
Joyful Chapel by Abraham Hunter - "This painting is very timely. We've had a really tough year so far and I'm sure we are not out of the woods yet. But this painting is full of joy and is an almost exact opposite of how the world seems now to many of us. It's time to be joyful no matter what and allow our hearts and minds to focus on the beauty of God's creation rather than our troubles." Abraham Hunter

Now you can paint this wonderful painting with our amazing paint by numbers kit from our Landscapes Collection.
Each Masterpiece By Numbers kit is produced with care and attention to produce a painting as close to the original artwork as possible. 
The peace and serenity of painting is time well spent in our hectic world. The joy of painting this expertly detailed canvas will only be matched by the beautiful painting you will create.

Includes Everything You Need To Complete Your Painting:
High quality linen canvas - you can start painting straight from the box.
Set of paintbrushes - custom made for our paint by numbers kits.
Individual paint pots - for every color in the painting so you don't need to mix any colors.

Canvas Size: 16"x 20" (approximately 40x50cm)


Click the "Add to Cart" button now. Limited quantities are available so order now if you see a picture that you like.
© Abraham Hunter. Courtesy Of MHS Licensing
View full details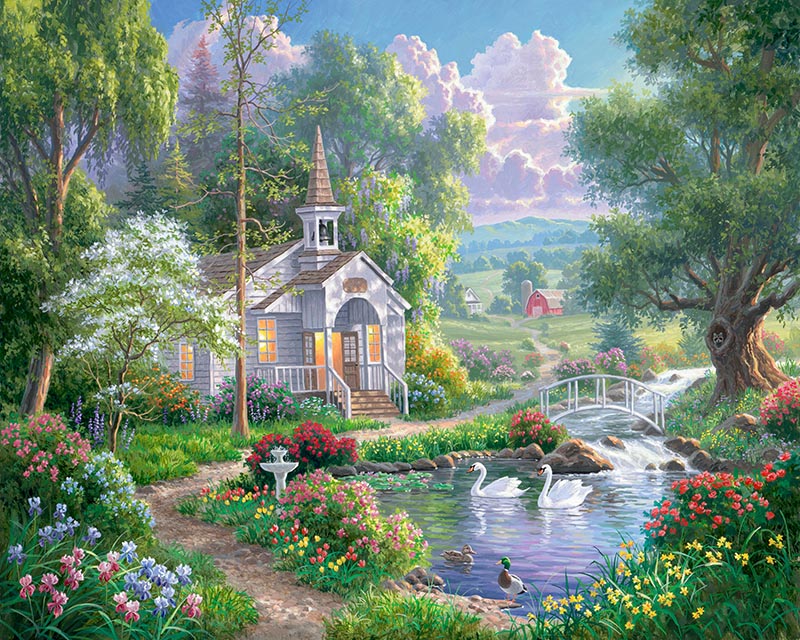 Joyful chapel
Absolutely love this painting!The colors are absolutely amazing! Not hard but at the same time a little detailed!
Colorful chapel!
Lots of detail in this one and bright colors make it a great painting, although not one of the easier ones to paint. I absolutely love the finished product.
Finished this Beauty!!
I posted a review when I was half done. Goodness, this one took a while... but so worth it! Lots of tiny pieces. The paints are beautiful. Not sure how long it took me, I would guess 40+ hours. Going to give it to one of my patients tomorrow.
Joyful Chapel a joy to paint and hang up
This was so fun to paint. It took me awhile to.finish. This was my twelveth picture.
Carol Siverling
Awesome
I can't wait to finish it so I can hopefully order another painting I love doing these kind of paintings they are so pretty and it's been one of my hobbies since I was about 10 years old .
Why You Should Buy From Us